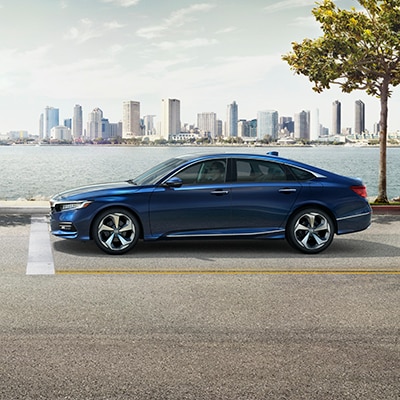 The All New 2018 Accord

The 2018 Accord is the 10th generation of Honda's perennially best-selling midsize sedan. All new from the ground up, the new Accord is built on a new platform with a lower, wider stance, a lighter and more rigid unibody structure; a lighter and more sophisticated chassis; three advanced new power units, including Accord's first-ever turbocharged engines, a new 10-speed automatic transmission and a third-generation two-motor hybrid system.
In recreating Accord for its 10th generation, Honda designers and engineers sought to convey "absolute confidence" in every element of design and performance. Building on the bedrock character of Accord - they have imbued the 10th-generation Accord with a new level of emotional appeal and premium quality; an Accord that defies its mainstream midsize sedan status, providing even more refined and engaging performance, a more spacious and upscape interior, and the latest generation of advanced Honda safety, connected-car and driver-assistive technologies.
In summary, the most dramatically styled, premium and fun-to-drive Accord yet.
Test Drive it today at Honda Oakland! Call 510.4520.9200 for your appointment
From Car and Driver....
There's a warm, cohesive quality to the Touring's interior thanks to the neutral tones, attractive faux-wood trim, and quality materials. Attention to detail abounds, from the way the knurled metal knobs for the climate-control and infotainment systems travel through their detents to the brilliant colors of the low-glare, hi-res center display-taken together, these items give off the vibe of a high-end electronic component. The simplicity of the layout plays a part, too, as the 2018 Accord marks the arrival of a streamlined and easier-to-use infotainment system that once again incorporates traditional volume and tuning knobs. Drivers of all shapes and sizes will find it easy to arrive at the perfect seating position, and those on the larger end of the spectrum will welcome the surplus of head and shoulder room despite the presence of a sunroof. In that respect, it has a leg up on the 2018 Toyota Camry, in which the same drivers complained that the B-pillar and sunroof infringed on their personal space. The tilting and telescoping steering wheel and well-placed pedals add to an impression that the car was designed from the driver's seat out.